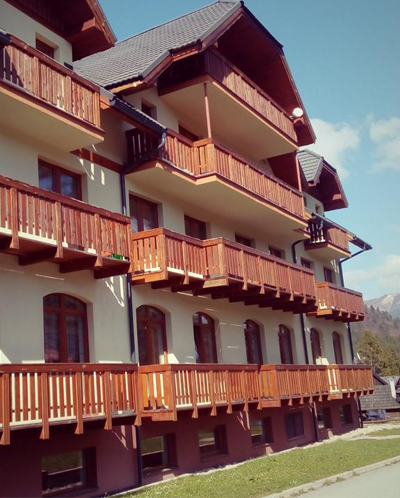 Location / Equipment
Apartments no. 17 and 23 creates an integral part of the Apartment House Kamzík. Both accommodation units are situated in the beautiful mountain resort Donovaly, only 900 metres far from the popular ski resort Park Snow Donovaly. Both apartments offer to our guests a comfortable accommodation including free WI-FI connection, spacious balcony with attractive landscape views and direct access to the nearest ski areas.
Each apartment is provided with a completely equipped kitchen including microwave oven, space for sitting and relax, comfortable sofa, TV with a flat screen and private bathroom with a shower cabinet. There is also a refrigerator and kettle.
Our guests may also try a delicious continental breakfast offered in the resort. All food lovers are warmly invited to spend some time in a local restaurant specialized in Italian food.
Rental ski equipment services are also available directly in the resort. Close surroundings offer our guests great possibilities of skiing and cycling in the middle of a beautiful mountain nature.
The distance between Poprad – Tatry Airport and the resort is only 77 km.
Independent evaluations of our guests confirm that they love this part of destination Donovaly.
Suitable also for couples – the apartment no. 17 designed for accommodation of two persons achieved great evaluation of 9,3 points

(Booking.com)
House pets invited
Free parking
Restaurant
Free WI-FI
Skiing
Bar
Accommodation availability
We will gladly prepare the price offer for you.
Information by Accommodation Provider
We are pleased to invite you to spend your holiday time in the beautiful mountain resort Donovaly – we offer accommodation in the two comfortable Apartments no. 17 and 23 creating an integral part of the Apartment House Kamzík. Both units are situated near the popular ski resort Park Snow Donovaly. Close surroundings offer beautiful mountain views to The Low Tatras or The Great Fatra. Our guests can also use a seater cable-car up to the peak of Nová Hoľa. Ski slopes of the part Záhradište are situated directly next to our apartments.

Furthermore, the biggest FUN PARK in Slovakia offers various possibilities of fun for our small guests. One of the great attractions during the summer months is kids FUN ARENA with a cable-way and bobsled, trampolines and an advantageous climbing wall. A magical fairy-tale land Habakuky is also situated close to the resort. Pleasant tourist walking, mountain or cycling tours creates great time for an active relaxing in the middle of a beautiful mountain nature. However, you may also attend many other interesting sport events regularly organised during the whole year (e.g. spring cross-over Donovaly – Špania Dolina).

Romantic couples, families with children and small groups of friends preferring comfort of apartment accommodation with a possibility to prepare their own food are warmly welcomed. We offer our guests accommodation in the two following apartments:

Apartment no. 17 is accommodated in a studio style and consists of one room designed for two persons. It is provided with a marriage bed and fold out sofa, TV and a full equipped kitchen unit with an electrical cooker, microwave oven, refrigerator and a kettle. Each apartment has its own balcony with a great landscape view and a sole bathroom with a shower cabinet and WC.

Apartment no. 23 consists of 2 separate rooms and it is designed for 3 to 5 persons. There is one bedroom designed for 3 people (one marriage bed + separate bed) and one living room connected with a fully equipped kitchen and a cosy dining area. It is provided with a TV, spacious balcony, bathroom with a shower cabinet and a separate WC.

Resort guests may also use reception services in the Apartment House Kamzík with a free WI-FI services. They may use restaurant services with a possibility to order all-day food. Our guests may safely put away their bicycles and skis to a separate room situated in a basement of the apartment house.

In case of need, you may communicate in the following foreign languages: English, Slovak, Polish, Hungarian, Czech and Russian.
Surroundings
Restaurants and Shops
Supermarket [ 0.5km ]

Nature
Ski Lift Záhradište [ 0.1km ]
Ski Lift Nová Hola [ 0.3km ]

The Nearest Airports
Letisko Poprad-Tatry [ 77km ]
The Nearest Attractions

Park Snow Donovaly [0.9km]
Ski Resort Šachtičky [9.5km]
Spa Brusno [15.6km]
The Central Slovak Gallery [16.6km]
Open-air Museam Vlkolínec [18.6km]